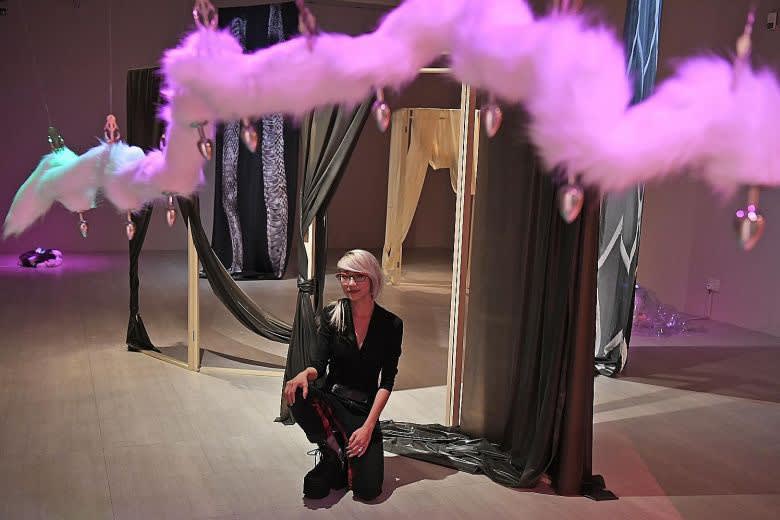 SERIES #1. PART 7
As part of our new digital initiatives, we are excited to present "In Dialogue" highlighting recent conversations together with works by our gallery artists. Focusing on each artist, the series situates artists' work in their current studio practices through personal snapshots, audio/video recordings as well as reference materials from our gallery archive.
Our current artist feature is WEIXIN QUEK CHONG (b.1988, Singapore). She recently claimed two top national awards: Singapore's National Arts Council Young Artist Award (2019) and the Grand Prize at the President's Young Talents Awards 2018 for a new body of work titled sft crsh ctrl exhibited at Singapore Art Museum (Oct 2018 - Jan 2019).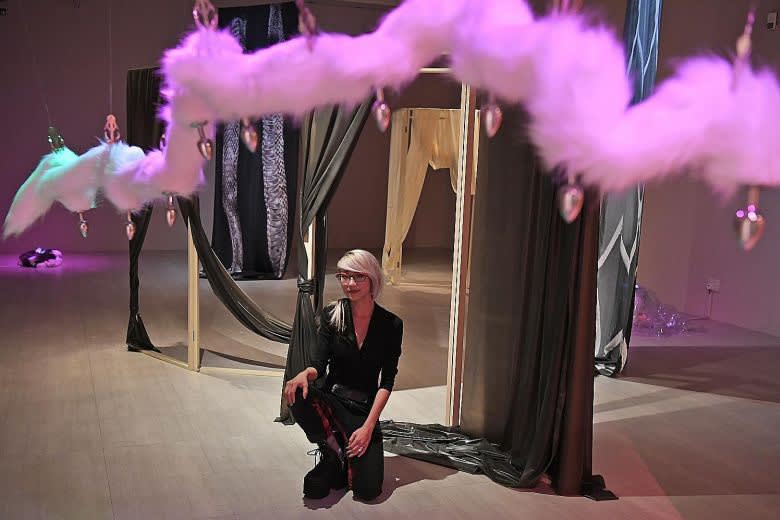 Artist alongside sft crsh ctrl exhibition held at Singapore Art Museum
Image Credit: Desmond Foo (Straits Times)
The title of the exhibition sft crsh ctrl stands for 'soft crash control', both an onomatopoeic texture and a reference to keyboard shortcuts, as well as the spectre of 'contingency planning' that is hinted at in the displayed statement about the artist's work.
The installation utilised large scale top-hung silk prints, highly polished latex sheet drapings, video, ASMR (Autonomous Sensory Meridien Response) sound and soft sculptural works. The promise or the sense of touch haunted and underlined many of the objects or textures in the room, even appearing, in the videos, through the very sensorial visibility of hands crumbling and caressing desserts.
| | |
| --- | --- |
| Image credit: eating cake 1 from Xin Chong on Vimeo. | Eating Cake 1 (2018) explores how tactile sensations and auditory stimuli are experienced through digital media. A pair of hands tears into dessert, crushing it to the background of a textured soundtrack. |
Referencing the ASMR phenomenon in recent contemporary online culture where videos are made and shared with the objective of triggering the listeners' Autonomous Sensory Meridien Response: otherwise known as the tingly feelings you may experience in response to textured sounds. ASMR can also be seen in part as a type of self-care culture, another niche community of its own, similar to the tech-destroying fetish from which the largest aluminium print in the environment, draws reference. These subcultures or sub-communities seeking pleasure and care are also all about relief, finding a kind of relief in the body of one's current existence.
In an interview regarding her award winning installation, WeiXin describes how she connects with audiences:
"I wanted an audience to be able to connect with tactility, digitally mediated or not, and their sensation of it; even questioning how could one bypass didactism or rationalisation in the experience of art... I wanted the work to be something that demands probing across a demographic of audiences, with no easy touchstones to draw conclusions by.

Utilising this diffused state of consciousness as a main ingredient... the work can be seen, basically, as a landscape that provokes or persuades this state through playfulness."

-the artist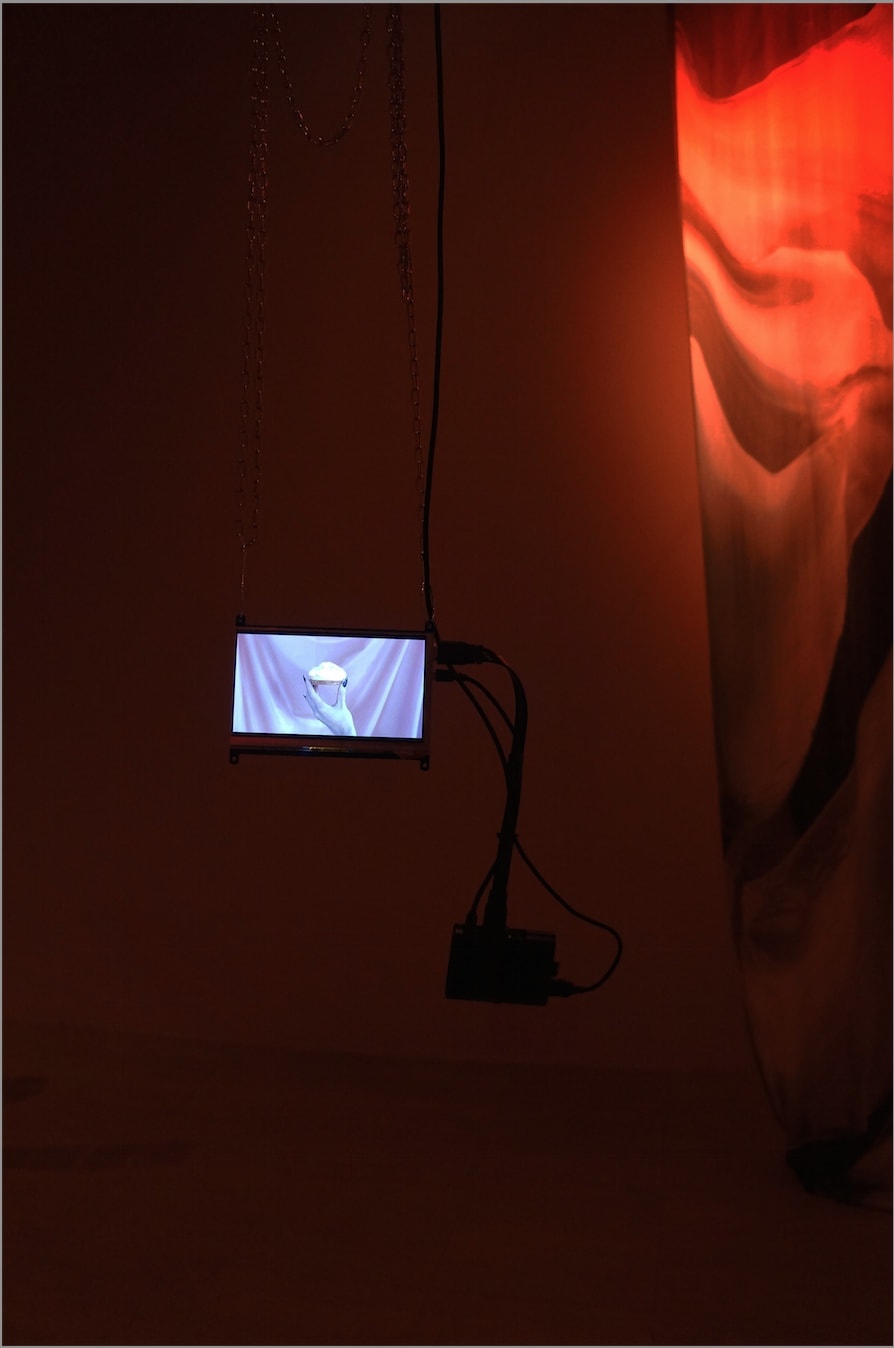 Installation View of Eating Cake.
Image Credit: Singapore Art Museum
THE JURY PANEL SAID IN A STATEMENT THAT CHONG'S WORK "STOOD OUT FOR ITS COMMAND OF SPACE AND MATERIAL, AND THE FLUIDITY WITH WHICH SHE EXECUTED HER CONCEPT".

"WE ALSO RECOGNISE WEIXIN'S WORK CONTAINS ELEMENTS OF RISK INTEGRAL TO CONTEMPORARY PRACTICE," THE PANEL ADDED, REFERRING TO THE UNCONVENTIONAL NATURE OF THE MATERIALS USED.

- OLIVIA HO, STRAITS TIMES SINGAPORE

Read more for an interview between the artist and Singapore Art Museum's curator Grace Tan.
We have had several in-depth conversations in the lead up to the artist's upcoming solo exhibition with A.I. which will comprise several new works. It will be held at Cromwell Place this October 2020, a new exhibition venue for members.
---
A brief exchange with the artist provides an insight into her lockdown experience spent in Madrid, Spain where she is currently living:
Q1: ONE WORD TO DESCRIBE YOUR
ART-MAKING EXPERIENCE DURING LOCKDOWN
WXC: Incubating / aching
Q2:

WHICH DESTINATION WOULD YOU FLY
TO IF YOU HAD THE CHANCE RIGHT NOW?
WXC: These days I am often thinking of my beautiful grandmas, now in Singapore and Malaysia, and how they survived long periods of hardship and instability in their lives.
Image credit: artist
Q3: WHO ARE YOUR BIGGEST INFLUENCES
AT THE MOMENT?
( my ADD feels so exposed :p )
Q4: INSTA IMAGES OF THE WEEK
Q5: HOW HAS YOUR PRACTICE CHANGED
DUE TO THE LOCKDOWN?
WXC: It was already quite interiorised and the lockdown has intensified this...I've always been used to working on art at home and in shared or makeshift spaces, but now there is an added surrealism; my mind is time-travelling, routine is disrupted and I often find myself reflecting on past influences or past selves.
It feels like a larval stage, like I'm growing strange new limbs or apparatus that i still don't know. This is definitely a state of incubating; I'm also wondering what my future work will look like when it emerges from its present state.